Danni Twose
"SPILL the beans!" - James Ferguson
Published June 19, 2023
Located in the hub of Newmarket, lies James Ferguson Racing, in the historic setting of Kremlin Cottage Stables. Despite still being in his early thirties, James has already accomplished a lot in his racing career.
As an accomplished amateur steeplechase jockey, James Ferguson rode at both the Cheltenham and Aintree Festivals before beginning his training career. His father, John Ferguson, who served as the former Godolphin chief executive and won over 200 races over jumps, including two at Grade 1 level, played an important role in James' early training.
Later on, James shifted his focus to flat racing and gained valuable experience working with esteemed trainers such as Sir Mark Prescott, Brian Meehan, Jessica Harrington, and Charlie Appleby. During his time with Charlie Appleby's team, James oversaw a select group of Godolphin-owned horses in Australia while his boss was occupied with European affairs. Under James' tutelage, the horses won several prestigious races down under, including the 2016 Sydney Cup with Polarisation.
Since launching his own stable in 2019, James has maintained an impressive strike rate, with almost one victory for every five runners, and achieved his 50th success before the end of his second full season. In August 2020, James celebrated his first stakes race win when Zoetic won the St Hugh's Fillies Stakes at Newbury. Just a year later, he secured his first Pattern win when Mise En Scene, a filly from Qatar Racing Limited, triumphed in the Group 3 Prestige Stakes at Sandown.
However, it was the Kodiac colt, El Bodegon, who truly put James on the map. El Bodegon gave James his first overseas victory when winning the Group 3 Prix de Conde at Chantilly in September 2021. Less than a month later, El Bodegon returned to France and secured James' first Group 1 win by taking the Criterium de Saint-Cloud.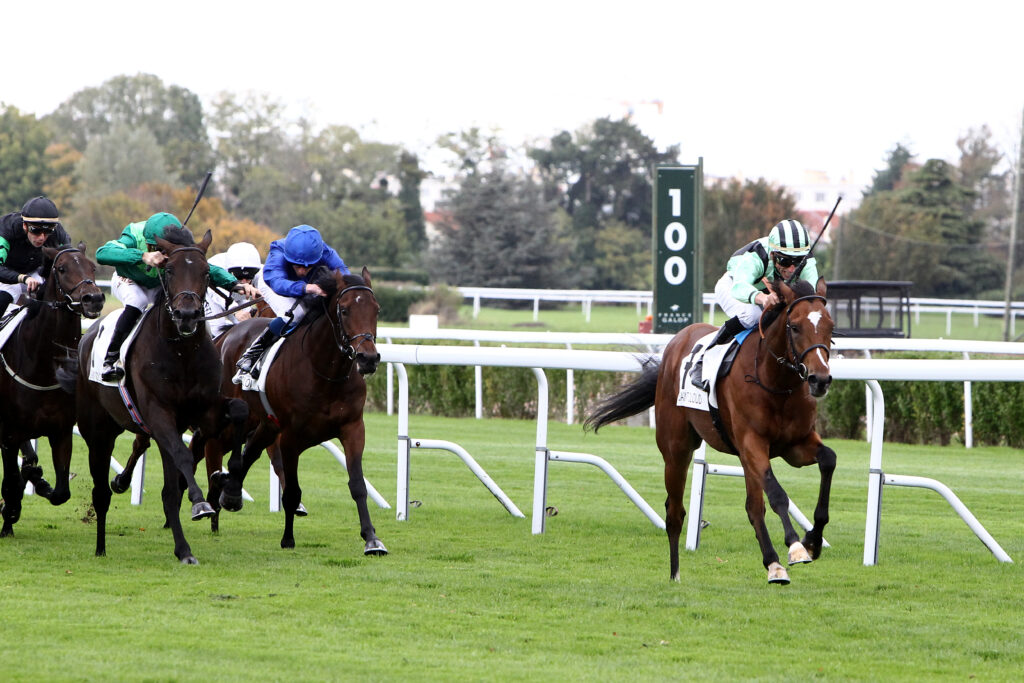 EL BODEGON and Ioritz Mendizabal wins the Criterium de Saint-Cloud (Group 1) Saint-Cloud (France), 23.10.2021 Frederic Vernichonphoto.com
We took the opportunity to catch up with James' impressive career to date.
How did you get started in horse racing, and what led you to pursue a career as a racehorse trainer?
"I can't remember a time when I wasn't into racing. My father has a successful career in racing so my career was already mapped out for me at a young age. Throughout school all I cared about was ponies and I always wanted to be a jockey."
What is the most important quality you look for in a racehorse, and how do you identify horses with that quality?
"A good horse should have good conformation, good balance, a good temperament and a good pedigree."
Can you tell us about a particularly memorable race or moment in your career as a trainer, and what made it stand out to you?
"23rd Oct 2021, El Bodegon in France at Saint-Cloud, he won a Group 1 on my birthday, my first Group 1 winner too. It gives you the confidence that you are doing a good job, it was a huge thrill as he was also owned by my first ever owners."
What challenges have you faced as a racehorse trainer, and how have you worked to overcome them?
"Covid hit in the first year of my training career, this made it very hard looking for owners as I was yet to have a proven track record."
How do you keep up with the latest developments and research in horse racing, and incorporate them into your training strategies?
"My role as a trainer is to ensure that each horse is reaching its full potential. We are lucky to have great team around us with industry experts across the board. We work closely with top class vets and our nutritional advisor to ensure the horses are sound and happy at home, fundamental to their wellbeing and performance on the track. I also utilise heart rate monitors to really track and analyse how each horse is progressing in their training and adjust their work accordingly."
Can you describe your training philosophy or approach, and how it differs from other trainers in the industry?
"Happy staff equals happy horses! A horse's career should always be planned for its future not just for the next race!"
What advice would you give to aspiring racehorse trainers, or those looking to get involved in the horse racing industry?
"Always work hard, get out there and work for as many different trainers as possible in as many different locations as possible, as every trainer is different and trains differently, but more importantly meet as many people as possible to make lots of contacts."
What are your goals for the future of your stable, and what steps are you taking to achieve them?
"Provide for the team that we have created, fundamentally train the best horses to run at the most prestigious race meetings here in the UK and internationally, and to try and ensure success for my kind and loyal owners."
What's your favourite SPILLERS™ feed and why?
"I love the SPILLERS™ HDF™ Power Cubes, they are extremely palatable, high in fibre and the horses always look well on them and perform to a high standard, I have trained a Group 1 winner on them so they speak for themselves, I only and have always feed cubes not mixes with a high oil fibre."